NASCC WINNERS

2019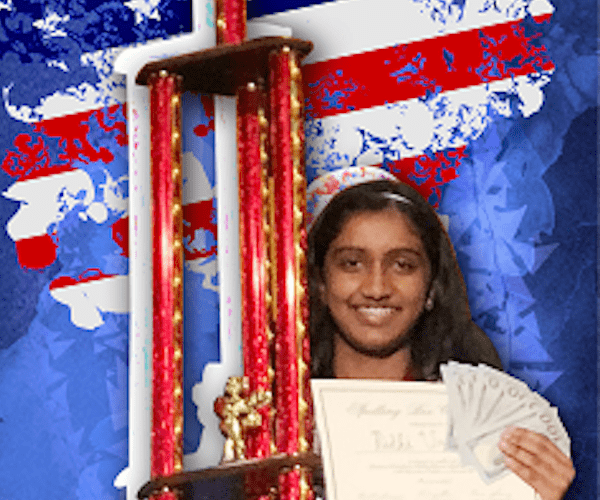 Nidhi Vadlamudi 2019 NASCC Champion L.A.
When I won NASCC, I was so excited to have the chance to travel to China.This year, when I participated in the NASCC Riverside spelling bee, I got to mingle with a lot of spellers from China and their enthusiasm was very inspiring. My family was very impressed with the dedication of the spellers to come all the way from China to the US to participate in the camp and competition.
Nidhi Vadlamudi
Santa Clara, California
2019 NASCC Champion L.A.

2019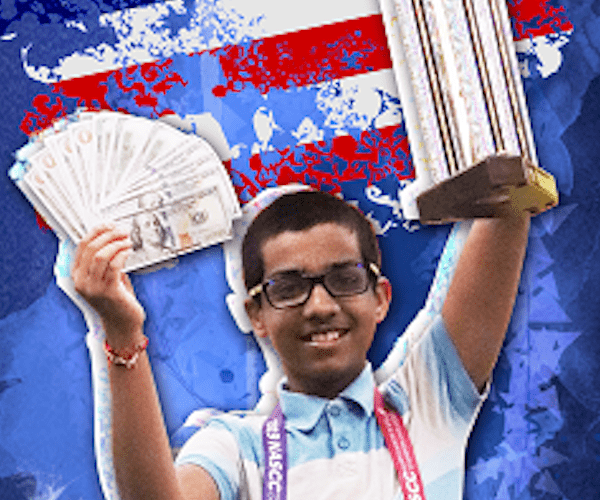 Navneeth Murali 2019 NASCC Champion D.C.
Spelling bees are great platforms to nurture your passion for words. I would like to share some spelling tips that I found helpful in my spelling journey. Make sure you master the word list for any given bee. Focus on systematic studying with roots and etymological patterns. Have a plan of what to study and stick to it. Make sure to ask for all of the information on stage even if you know the word so that you can spell it with confidence. If you get a word that you do not know in a bee, ask root questions (if applicable) and all the other information. Keeping it simple helps most of the time. Make your own lists of exception words, irregular roots, and frequently missed words and review them. Participate in as many bees as you can to gain practice. Every word you miss in a bee is a learning opportunity to do better in the future. Most importantly, there is no replacement for hard work.
Navneeth Murali
New Jersey
2019 NASCC Champion D.C.

2018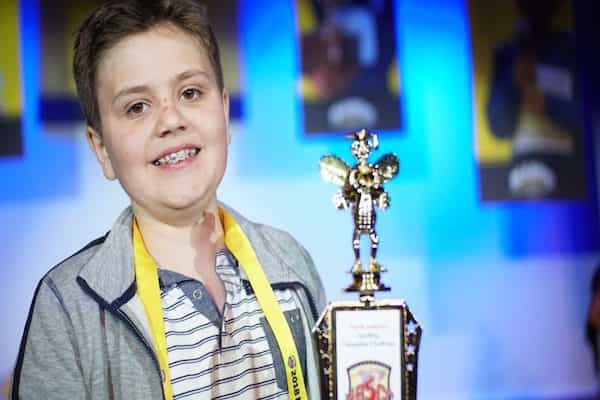 Cameron Keith, 2018 NASCC Champion L.A.
Colorado teen Cameron Keith used the Rolodex of words spinning in brain to advance to the Scripps National. This was Cameron's fourth trip to the Scripps National Spelling Bee. He tied for 50th place in 2015, tied for 18th place in 2016 and tied for 25th place in 2018. Cameron studied spelling words four to six hours a day all year and his perseverance earned him.
Cameron Keith
Denver, Colorado
2018 NASCC Champion L.A.

2018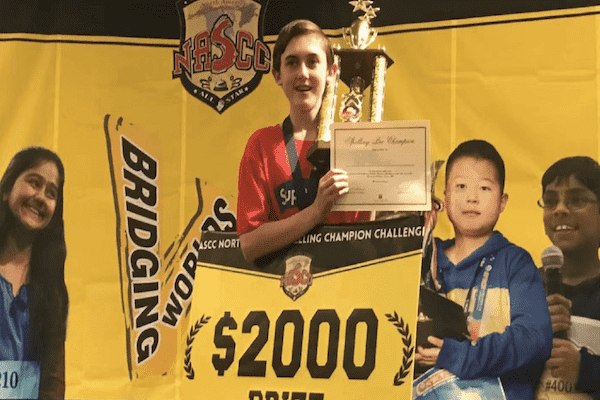 Paul Hamrick, 2018 NASCC Champion D.C.
Hi, spellers! It's Paul Hamrick, 2018 NASCC champion, and I want to say how impressed I am with your constant dedication to learning this completely new language, and spelling some of the hardest words from it. It's truly incredible what you've accomplished with spelling, and though it may not be easy, keep going. The results will be worth it, keep up the good work!
Paul Hamrick
Salinas, California
2018 NASCC Champion D.C.

2017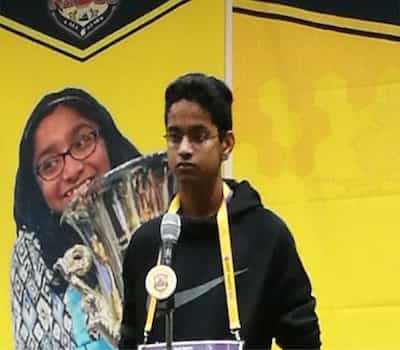 Shourav Dasari, 2017 NASCC Champion
My name is Shourav Dasari, and I am the champion of the 2017 North American Spelling Champion Challenge. I have been doing spelling for over 7 years, and my spelling accomplishments include 4th place at the 2017 Scripps National Spelling Bee, 11th place at the 2016 Scripps National Spelling Bee, 1st place in both the junior and senior divisions of the North South Foundation National Spelling Bee, and champion of the 2015 South Asian Spelling Bee.
The secret to my successful spelling bee career was an interest in words and a good knowledge of roots and language patterns. However, there is no substitute for hard work. Practicing spelling year-round was a key factor behind my spelling bee wins.
I'm excited to make new friends and learn about Chinese culture at the SPBCN. I look forward to bringing my spelling skills all the way to China, and competing with some great spellers. See you all in Beijing!
Shourav Dasari
Texas
2017 NASCC Champion

2016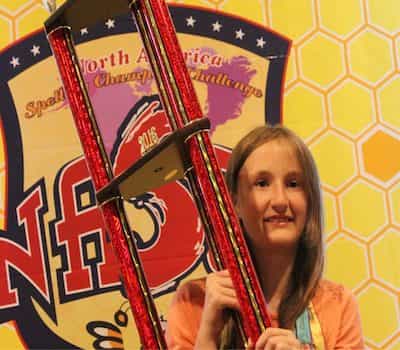 Sylvie Lamontagne, 2016 NASCC Champion
Spelling bees helped me learn a lot about things outside of words. I learned about work ethic, time management, and how to stay calm under pressure. I also met many people who I hope to stay friends with for a long time. Spelling enabled me to travel to Washington, D.C. for the Scripps National Spelling Bee twice. I was also able to go to California for NASCC and to Beijing for the start of SPBCN's 2016-2017 season and to participate in GCSCC. For spellers this year, remember that studying will get you far. Also, remember that it's not just about winning; it's also about learning and making new friends. I hope that you will find as much joy and fun in spelling as I do.
Sylvie Lamontagne,
Lakewood, Colorado
2016 NASCC Champion

2015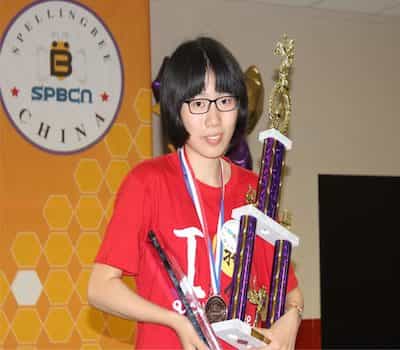 Tian En He, 2015 NASCC Champion
It was so inspiring to go to the United States particularly in Los Angeles to compete with the local competitors. They were prominent in language and in studying hard, so we could not look down upon them. Even though they are very young, their vocabulary is vast. After several rounds, I and another two American competitors hadn't been out of the game, and both of them were younger than me. They had no difficulty in some challenge words, so it was so lucky that I can hold on to the last. Anthony Chiang is a Asian-American kid, and he was the champion of L.A. Spelling Bee. For me, I felt I had won just the thought that I could compete with him. The last word was Periphrastic, and he spelled it wrongly perhaps because of carelessness. It was difficult to identify the pronunciation of Para and Peri.
Tian En He
Tianjin, China
2015 NASCC Champion